#AskTDS: "My landlord is claiming for cutting back a tree - can they do this?"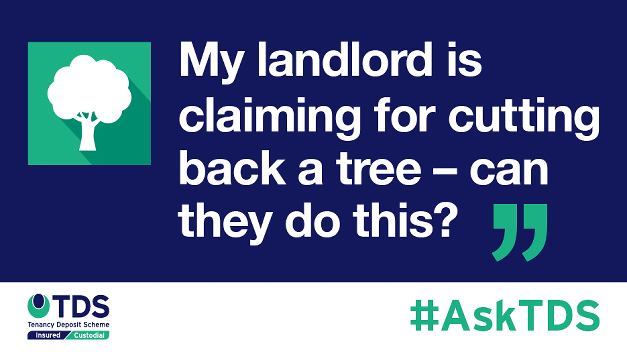 This article has been written in response to a tenant's query: "My landlord is claiming for cutting back a tree - can they do this?"
Gardening is a common cause of disputes between landlords and tenants with around 16% of TDS Insured disputes accounting for claims relating to gardens and their maintenance. Cutting back of trees can complicate matters further due to the relatively high costs of hiring a tree surgeon or instances where trees have preservation orders on them.
If a landlord is making a claim for the cutting back of a tree it could be down a number of circumstances. A regular reason for gardening disputes is when a garden has been left in poor condition by the tenant and work is needed to bring it back to the same condition as at the start of the tenancy. Rental properties that come with gardens should have a clause in the tenancy agreement setting out a tenant's responsibilities for any garden maintenance. If these responsibilities are not met during the tenancy, the landlord could propose deductions from the tenancy deposit to pay for gardening costs.
Alternatively, a landlord may make a claim in the event that a tenant cut back the tree themselves causing irreparable damage, in which case the landlord could make a claim for compensation.
A general clause containing an obligation to keep the garden in good seasonal order would not normally cover items requiring specialist attention, including trees and large bushes. If the landlord wishes the tenant to be responsible for these items, it would be advisable to provide specific information about their maintenance and consider using a specially-negotiated clause to highlight to the tenant the action they need to take.
In both cases, it is important for tenants to adhere to any specific instructions contained in the tenancy agreement or any extra clauses to avoid landlords deducting costs from the tenancy deposit to cover issues such as these. Should a dispute be raised concerning gardening claims, an adjudicator would look for evidence of the condition of the garden both before and at the end of the tenancy. For gardens, a written description is a key part of the inventory alongside photographs (ideally taken at similar times of year) to provide an overview of the garden's condition.
<hr/>
About TDS:
Tenancy Deposit Scheme (TDS) is a government approved scheme for the protection of tenancy deposits; TDS offers both Insured and Custodial protection and also provides fair adjudication for disputes that arise over the tenancy deposits that we protect.
We provide invaluable training in tenancy deposit protection and disputes for agents and landlords through the TDS Academy as well as joining with MOL to provide the Technical Award in Residential Tenancy Deposits.

TDS Insured Scheme: where a TDS member can hold the tenancy deposits as stakeholder during the term of the tenancy.
TDS Custodial Scheme: where TDS hold the deposit for the duration of the tenancy.
TDS Academy: TDS provides property professionals with invaluable training in tenancy deposit protection and tenancy deposit disputes.
TDS can only comment on the process for our scheme, other deposit protection schemes may have a different process/require different steps. Content is correct at the time of writing.
ARLA Propertymark: For agents who would like to stay up to date, you can contact Propertymark | ARLA at: join@propertymark.com. By being a member of Propertymark | ARLA you will be eligible for TDS Insured best headline rates.
RLA: If you are a Landlord and would like to keep up to date with any changes that may affect you or your responsibilities, you can contact the RLA at: info@rla.org.uk and quote reference: dg715 to receive 25% off your first year's membership.