#ExpertView: Time for a Spring clean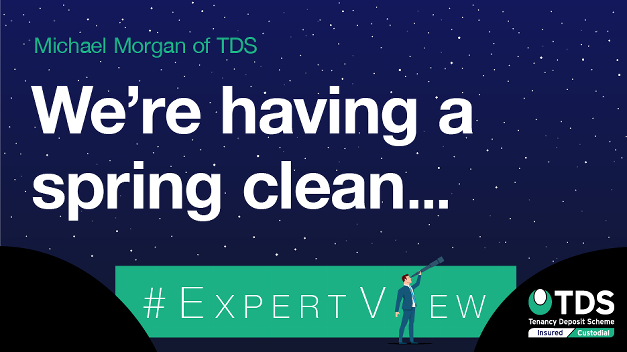 In this week's #ExpertView, our Director of Dispute Resolution, Michael Morgan, goes through the latest updates for our Insured members.
Lambs gambolling in the fields? Check. Daffodils swaying the breeze? Check. Feeling a little sick from too many Easter eggs? Check. Winter is behind us so it's time for a Spring clean of our Insured Scheme documents, as we do at this time every year, to make sure you have the most-up-to-date information.
Updates to Insured Scheme Rules
There are very few changes, you will be pleased to note, Tenancy Deposit Protection legislation hasn't changed but we've made some minor housekeeping changes, for example to reflect the new General Data Protection regulation (GDPR).
Update to Insured Scheme Leaflet – part of the Prescribed Information
The TDS Insured scheme leaflet has been published and is available now to download. This is the 6th Edition, and forms part of the Prescribed Information that needs to be served within 30 days of the tenancy deposit being received. As with the scheme rules, there are very few changes.
In addition, under the section on matters that go to Court we have expanded the section on page 12 covering Court directions and how TDS Insured consider those instructions as to how we make release tenancy deposit sums.
At the moment, the leaflet is available to download and print to serve on tenants and any relevant person entitled to this key document. This 6th Edition can be used right away and there will be a full-colour printed version available to order later in the year, in the meantime members can continue to use the 5th Edition until any stocks are exhausted.
Serving Prescribed Information
Talking about Prescribed Information, we have updated our guidance to include a reminder to members that serving Prescribed Information in advance of actually receiving the tenancy deposit does not meet the requirements of the legislation. The Prescribed Information template itself is unchanged.
Finally, we've updated our guide that outlines the approach we take to tenancies, and disputes, involving more than one landlord or tenant.
So, that's what we've updated. We've got a new document too. Almost 20% of the disputes raised with us get no response to them. It's not necessary to raise these disputes with us, as there is a procedure members can follow to distribute the deposit. You can find the new guidance documents below which explains what you need to do, and also provides templates for agents to use with their landlords.
DOCUMENT DOWNLOADS
About the author:
Michael Morgan is the Tenancy Deposit Scheme's Director of Dispute Resolution. Having trained as a solicitor, Michael has been involved in dispute resolution for over 20 years. His previous roles have included leading the consumer advice service for Hertfordshire Trading Standards; Michael was also the Chief Conciliation Officer for Qualitas, the Furniture Ombudsman, where he took a formative role in its transition to Ombudsman status.
Michael joined TDS in 2006 as a Deputy Independent Case Examiner. He is now responsible for the overall management of its dispute resolution services and the quality of its adjudication functions. Michael has also led a number of key 'behind the scenes' innovations at TDS.
Michael has been selected as a judge for the UK Complaint Handling Awards 2017 complaintsawards.co.uk
About TDS
Tenancy Deposit Scheme (TDS) is a Government-approved scheme for the protection of tenancy deposits; TDS offers both Insured and Custodial protection and also provides fair adjudication for disputes that arise over the tenancy deposits that we protect.
We provide invaluable training in tenancy deposit protection and disputes for agents and landlords through the TDS Academy as well as joining with MOL to provide the Technical Award in Residential Tenancy Deposits.
TDS Insured Scheme: where a TDS member can hold the tenancy deposits as stakeholder during the term of the tenancy.
TDS Custodial Scheme: where TDS hold the deposit for the duration of the tenancy.
TDS Academy: TDS provides property professionals with invaluable training in tenancy deposit protection and tenancy deposit disputes.
TDS Northern Ireland: TDS is Northern Ireland's leading and only not for profit tenancy deposit protection scheme.
TDS can only comment on the process for our scheme, other deposit protection schemes may have a different process/require different steps. Content is correct at the time of writing.
These views are those of the author alone and do not necessarily reflect the view of TDS, its officers and employees.
ARLA|Propertymark: For agents who would like to stay up to date, you can contact Propertymark | ARLA at: join@propertymark.com. By being a member of Propertymark | ARLA you will be eligible for TDS Insured best headline rates.
RLA: If you are a landlord and would like to keep up to date with any changes that may affect you or your responsibilities, you can contact the RLA at: info@rla.org.uk and quote reference: dg715 to receive 25% off your first year's membership.