#ExpertView: The RLA marks 20 years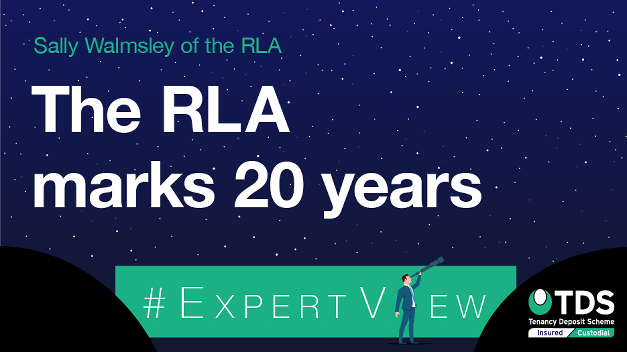 Starting with an initial membership of just 350 two decades ago, the Residential Landlords Association has developed into one of the country's most important landlord bodies with more than 30,000 members today. Here Sally Walmsley, RLA communications manager, looks back at how it all began.
Set up by landlords for landlords, the Residential Landlords Association celebrated its 20th anniversary in March 2018 - marking two decades of providing advice, education, information, representation and protection to a wide variety of PRS landlords.
Despite there being an estimated half a million private landlords operating in the country back in 1998, there was no single national group to put forward a co-ordinated campaign to fight for them. Landlords were feeling under siege.
Two years previously, the Conservative Government introduced the Shared Accommodation Rate, restricting the amount of housing benefit a single person under 25 could receive to the average rent charged for a room in a shared house.
The Tories then planned to extend this single room allowance to those under the age of 60, in a move known as the Under 60s rule, which would slash payments to millions of benefits claimants.
For many landlords this was a step too far and history was made in January 1997 when landlord Alan Ward put £100 on the table at a meeting of the Manchester Landlord's Association, to start a war chest of funds to challenge the Government. Thirty other landlords in the room did the same and the eventual success of this campaign convinced members of the need for national representation and the RLA was born.
Developed as a web-based members association, operating online gave the group the ability to work as a national rather than just a regional organisation. Campaigning was the main focus in the early days – with the office in Sale, South Manchester opening in 1999 with just a single member of staff.
The helpline – now known as the Landlord Advice Team and one of the RLA's most valued services - was manned solely by the team of 10 directors on a rota basis. Training courses soon followed, with the first on 'how to conduct and end a tenancy' – with landlord demand high. Annual membership was £75, and in its first full year, 1999, the RLA website received more than 5,000 visits with more than 1,200 tenancy agreements downloaded.
Since those early days the RLA staff has grown from one to 33, a team of 11 trained staff on the Landlord Advice Team answer at least 50,000 landlord enquiries a year and the
association trains more than 2,800 landlords a year, offering 25 different courses.
It has also developed its own research arm, RLA PEARL which provides research- based evidence to back up arguments and has set up professional partnerships, offering members great deals on everything from mortgages and deposit protection to insurance.
In 2012 it launched the DepositGuard product with TDS which gave tenancy deposit protection to self-managing landlords. RLA members get the product at the cheapest rate but it's been widened it out to non-members too.
In fact, the only thing that hasn't really changed is the price, with annual membership still only £79.95.
The 20th anniversary year promises to be an exciting one. The RLA has recently revealed its new rebrand – with a contemporary new look reflecting the progressive attitude of the RLA.
It has also launched a new Future Renting conference programme, with the next event, Future Renting North in Manchester on April 24th 2018. TDS will be in attendance on the day and also take part in the panel discussion.
RLA Chairman, Alan Ward, whose £100 kick-started the association all those years ago said: "The challenges are greater than ever, but the RLA will continue to fight for its landlords for the next 20 years and beyond. Times change: half a million landlords in 1998 are two million now. The PRS is three times as big and still growing.
"Landlords like us have funded and managed three-in-five of all new homes over those years and still the RLA battles to ensure we get fair treatment from government and are able to do the same for our tenants."
Read more about the history of the RLA, along with birthday messages from property professionals, peers, MPs and charities, or leave your own personal birthday message here.
About the author:
Sally Walmsley is the Communications Manager for the Residential Landlords Association (RLA) and Editor of Residential Property Investor magazine.
With 16 years' experience writing for regional and national newspapers and magazines she works closely with the policy team, writing articles for the national, regional and trade press on behalf of the RLA, as well as promoting its work through the association's news site and social media channels.
She also writes and edits the RLA's members' magazine Residential Property Investor.
About RLA:
RLA has over 30,000 members nationwide, with a combined portfolio of over a quarter of a million properties. Home to a growing community of landlords, the RLA delivers day-to-day support, expert advice and government campaigning, plus a range of high-quality services relevant to their landlord's needs.
TDS has partnered with the RLA to bring you DepositGuard which offers RLA landlord members deposit protection at discounted rates.
About TDS:
Tenancy Deposit Scheme (TDS) is a government approved scheme for the protection of tenancy deposits; TDS offers both Insured and Custodial protection and also provides fair adjudication for disputes that arise over the tenancy deposits that we protect.
We provide invaluable training in tenancy deposit protection and disputes for agents and landlords through the TDS Academy as well as joining with MOL to provide the Technical Award in Residential Tenancy Deposits.
TDS Insured Scheme: where a TDS member can hold the tenancy deposits as stakeholder during the term of the tenancy.
TDS Custodial Scheme: where TDS hold the deposit for the duration of the tenancy.
TDS Academy: TDS provides property professionals with invaluable training in tenancy deposit protection and tenancy deposit disputes.
TDS can only comment on the process for our scheme, other deposit protection schemes may have a different process/require different steps. Content is correct at the time of writing.
These views are those of the author alone and do not necessarily reflect the view of TDS, its officers and employees.