#ExpertView: TDS at the Landlord Investment Show – Olympia Thursday 13th July 2019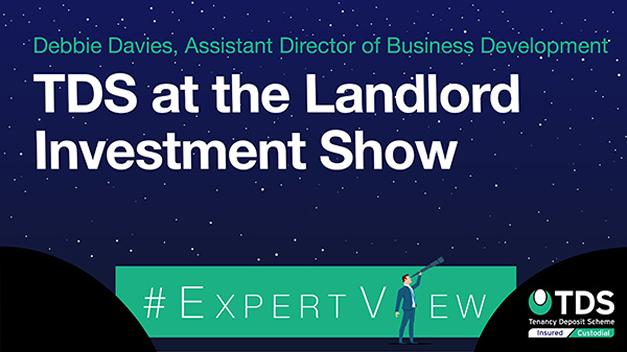 In this week's #ExpertView, Debbie Davies, Assistant Director of Business Development at Tenancy Deposit Scheme (TDS), discusses TDS' attendance at the upcoming Landlord Investment Show in Olympia, London this week.
On Thursday (13th of July 2019), the Landlord Investment Show will be held at Olympia London and the Tenancy Deposit Scheme will be in attendance offering existing landlord members and new landlord members information and advice on all thing's tenancy deposit related. Come and meet the TDS team at stand 41.
TDS has created a FREE e-book for landlords to simplify the Deposit Cap which will be available for anyone who sign up for TDS' landlord newsletter mailing list. The e-book has clear and comprehensive guidance to ensure that landlords are aware of how to comply with the new legislation and shows you how you can access an online calculator to help determine the value of deposit you can request on new or renewed tenancies in light of the new legislation.
The National Landlord Investment Show connects 1000s of property professionals at venues throughout the country giving landlords and investors the chance to connect with suppliers, network and increase their knowledge of the PRS (Private Rented Sector). It's a great opportunity to network and find out more about some of the excellent work being done in the PRS and we're excited to be involved again.
Delegates will be able to learn more about industry legislation, including updates on the Tenant Fees Ban and deposit cap; TDS will be there to showcase our unique online solution to the Deposit Cap. TDS has a mission to raise awareness of tenancy deposit protection to agents, landlords and tenants and the Landlord Investment Show gives landlords the opportunity to ask our team the questions that matter.
The last Olympia event in March welcomed over 1,000 delegates - a clear sign that the opportunities offered by the event are in high demand.
In addition to the educational aspect of the event and a range of speakers, including Kelly Wallace, Senior Business Development Executive at TDS, there will also be an exhibition space with stands displaying a wide array of interesting products and services.
We're looking forward to attending again, seeing some familiar faces and meeting new ones. Come and meet us at stand 41; we will be there to make tenancy deposits easy, answer your tenancy deposit-related questions, provide an array of guidance documents for your perusal and show you how you can protect your tenancy deposit in a few simple steps.
You can find out more about the show here.
About the author:
Debbie Davies joined TDS in July 2017 as the Assistant Director of Business Development. She has an extensive background in the property industry with over 18 years' experience in residential lettings.
Debbie brings her passion for raising standards in the lettings industry into her role and is responsible for the digital marketing, advertising, communications and events management for TDS with a firm focus on business development across the TDS brand including TDS England & Wales, TDS Northern Ireland, TDS Academy and TDS Charitable Foundation.
About TDS
Tenancy Deposit Scheme (TDS) is a government-approved scheme for the protection of tenancy deposits; TDS offers both Insured and Custodial protection and also provides fair adjudication for disputes that arise over the tenancy deposits that we protect.
We provide invaluable training in tenancy deposit protection and disputes for agents and landlords through the TDS Academy as well as joining with MOL to provide the Technical Award in Residential Tenancy Deposits.
TDS Insured Scheme: where a TDS member can hold the tenancy deposits as stakeholder during the term of the tenancy.
TDS Custodial Scheme: where TDS hold the deposit for the duration of the tenancy.
TDS Academy: TDS provides property professionals with invaluable training in tenancy deposit protection and tenancy deposit disputes.
TDS Northern Ireland: TDS is Northern Ireland's leading and only not for profit tenancy deposit protection scheme.
TDS can only comment on the process for our scheme, other deposit protection schemes may have a different process/require different steps. Content is correct at the time of writing.
These views are those of the author alone and do not necessarily reflect the view of TDS, its officers and employees.
RLA: If you are a landlord and would like to keep up to date with any changes that may affect you or your responsibilities, you can contact the RLA at: info@rla.org.uk and quote reference: dg715 to receive 25% off your first year's membership.