#AskTDS: "My boiler stopped working over Christmas – Can I claim compensation from my deposit?"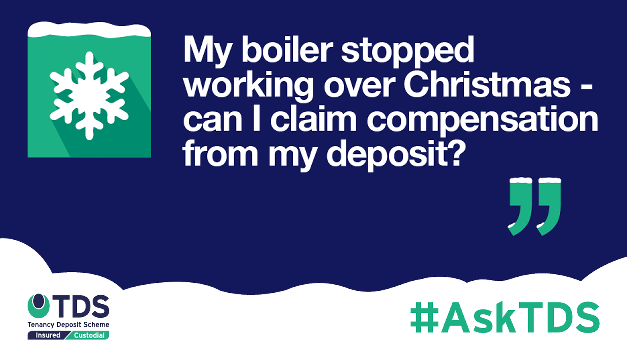 TDS sometimes see enquires from a tenant that relates to a maintenance issue or defect in the property experienced during the tenancy. More specifically the enquiry we see most often is "My boiler stopped working and I had no heating or hot water - can I claim compensation?" this could come in response to a proposed deduction from the tenancy deposit by the landlord or letting agent.
A broken boiler at any time of the year is an inconvenience, it can be particularly frustrating and convenient when the weather is liable to be extra cold and the disappointment of shivering whilst trying to enjoy the festive period.
In addition, during this period, some property management companies offer a limited support service to tackle repairs.
As a tenant you may be tempted to immediately call in a contractor to fix a problem as soon as it arises; however this can be problematic as the tenant may find that they are unable to claim back any expenditure if the landlord/letting agent has not authorised a call out or repair. It's important to advise your landlord or letting agent of any maintenance items which arise as soon as possible so they can sort the problem to avoid any unnecessary bills and so they can call in their authorised contractor.
We often see disputes where tenants have stopped paying their rent due to maintenance issues such as broken boilers or burst pipes. In signing the tenancy agreement, the tenant agrees to pay rent and therefore withholding rent means the landlord could make a claim against the deposit for rent arrears.
TDS offer a free, impartial alternative dispute resolution service and adjudicate if the parties are unable to reach a resolution as to the return of the deposit and proposed deductions; but the adjudicator will be unable to consider a counterclaim or a matter unrelated to the tenancy deposit. This would include compensation and offsetting claims that may be sought by the tenants. To claim for compensation against your landlord you should seek independent legal advice on how best to resolve the issues.
Simply put, if you have a maintenance issue make sure you discuss the matter with the landlord or letting agent to get the matter sorted quickly, as the tenancy deposit is the tenants' in the first place compensation for a broken boiler or lack of hot water cannot be considered in adjudication.
"Should I go to court rather than use TDS?"
It's not compulsory for the parties to use the TDS Adjudication service, parties may choose to go to court if they so desire. If the parties are unable to reach an agreement where deductions are being made from a deposit, but the dispute involves other elements including counterclaims or possession matters then going to court may be the best area to examine all the relevant claims.
About TDS:
Tenancy Deposit Scheme (TDS) is a government-approved scheme for the protection of tenancy deposits; TDS offers both Insured and Custodial protection and provides fair adjudication for disputes that arise over the tenancy deposits that we protect.
We provide invaluable training in tenancy deposit protection and disputes for agents and landlords through the TDS Academy as well as joining with MOL to provide the Technical Award in Residential Tenancy Deposits.
TDS Insured Scheme: where a TDS member can hold the tenancy deposits as stakeholder during the term of the tenancy.
TDS Custodial Scheme: where TDS hold the deposit for the duration of the tenancy.
TDS Academy: TDS provides property professionals with invaluable training in tenancy deposit protection and tenancy deposit disputes.
TDS Northern Ireland: TDS is Northern Ireland's leading and only not for profit tenancy deposit protection scheme.
TDS can only comment on the process for our scheme, other deposit protection schemes may have a different process/require different steps. Content is correct at the time of writing.