#AskTDS: How can members access our resources – and why should they?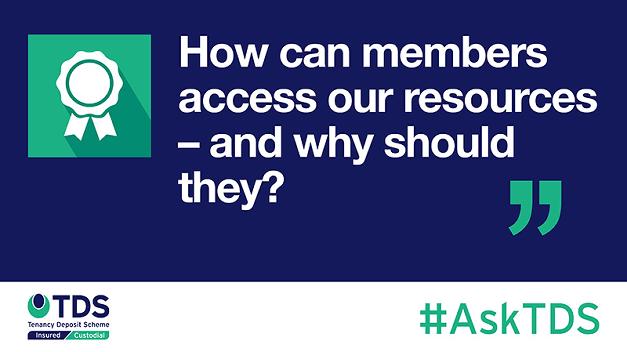 In this week's #AskTDS, we tell members how they can access the wealth of resources TDS produces, what they can find out, and why these resources are important.
The world of deposit protection can at times seem confusing, particularly for 'accidental landlords' or new tenants, but also for letting agents. That's why we regularly publish statistics, reports and research to help our members navigate tenancy deposit protection and get the most from the service TDS provides.
Transparency is important to TDS, so we make our annual reports freely available online. Not only do these include information on deposit protection and dispute resolutions, but also more specific data – including for our partner organisations TDS Northern Ireland and SafeDeposits Scotland. It offers tips and advice on disputes too, and lets members know how we, as an organisation, are performing.
Our Statistical Briefings provide further insight and clarity into the work TDS does, and the performance of both our Insured and Custodial schemes.
Navigating the PRS isn't always a simple process – so it's worth familiarising yourself with our Guide to the Legislation in England & Wales. It could save you money, time, and potentially avoid a dispute.
We've always been proactive in providing knowledge and education to the private rented sector (PRS) – ensuring inventory reports are thorough, for example, or best practice in tenancy agreements to avoid any disputes. Our resources are there to assist everyone in the PRS and provide insight into how TDS works.
Although we provide dispute resolution, it's always desirable to try and avoid things getting to that stage. The resources available should go some way to educating everyone on the relevant subtleties of what is expected in the process so that disputes don't arise in the first place.
TDS is, and always has been, dedicated to educating members about the PRS. And while tools like these are a vital component of that, our customer service team will always be on hand to assist if you have any questions.
You can access all of our publications on the website.
About TDS
Tenancy Deposit Scheme (TDS) is a government-approved scheme for the protection of tenancy deposits; TDS offers both Insured and Custodial protection and also provides fair adjudication for disputes that arise over the tenancy deposits that we protect.
We provide invaluable training in tenancy deposit protection and disputes for agents and landlords through the TDS Academy as well as joining with MOL to provide the Technical Award in Residential Tenancy Deposits.
TDS Insured Scheme: where a TDS member can hold the tenancy deposits as stakeholder during the term of the tenancy.
TDS Custodial Scheme: where TDS hold the deposit for the duration of the tenancy.
TDS Academy: TDS provides property professionals with invaluable training in tenancy deposit protection and tenancy deposit disputes.
TDS Northern Ireland: TDS is Northern Ireland's leading and only not for profit tenancy deposit protection scheme.
TDS can only comment on the process for our scheme, other deposit protection schemes may have a different process/require different steps. Content is correct at the time of writing.
These views are those of the author alone and do not necessarily reflect the view of TDS, its officers and employees.
ARLA|Propertymark: For agents who would like to stay up to date, you can contact Propertymark | ARLA at: join@propertymark.com. By being a member of Propertymark | ARLA you will be eligible for TDS Insured best headline rates.
RLA: If you are a landlord and would like to keep up to date with any changes that may affect you or your responsibilities, you can contact the RLA at: info@rla.org.uk and quote reference: dg715 to receive 25% off your first year's membership.